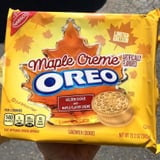 When I think maple, my mind goes straight to syrup and breakfast food, specifically pancakes and waffles. According to Delish, Oreo has embraced its own love for breakfast by reportedly creating a Maple Creme Oreo. So this means we can eat cookies for breakfast now, right?
Instagram user Junk Banter was lucky enough to come across a package of these sweets, which will be made with golden cookies and maple-flavored creme filling. Yum!
Related:
Most Stuf Oreos Are Here, and We Can't Even Fully Articulate How Massive They Are

While Junk Banter said we should expect the cookies later this year, possibly in late Summer or early Fall, we know we have a lot of questions in the meantime. Will the maple-flavored Oreos be purely sweet or will they have a slight buttery taste to create a flavor combination reminiscent of pancakes? Will I eat one cookie or all three rows before I've decided I've had enough? And will a maple-bacon Oreo be next? Hopefully these delicious-looking cookies will be released soon so we can find out!
Read more: popsugar.com